About Ushimado Town
Known as the 'Aegean Sea of the East', the Seto Inland Sea is a place of untold beauty which has enticed travellers for centuries with its scattered constellation of unspoiled islands and tranquil coves and inlets. Tucked away on the shores of this mystical sea lies the quiet port town of Ushimado, located in the southeastern part of Setouchi City.
Although today Ushimado is a peaceful leisure town, you can still feel the hustle and bustle of a once busy city as you stroll down its historied streets. With its old townscape and its many ancient shrines and temples overlooking the sea, it is not difficult to feel like you are slipping back in time as you imagine this town at its prime as a vital centre of the local feudal domain.
In addition to its rich history, Ushimado is also a great place to relax and enjoy the gorgeous scenery. There is nothing quite like the impressive panorama from the Olive Garden up in the foothills of the town, from which you can admire the sunlight reflecting and glittering on the surface of the Seto Inland Sea. On sunny days, you can even see all the way out to the islands of Hyogo Prefecture, as well as clearly distinguish Shodoshima Island of Kagawa Prefecture, with its picturesque sand bars and verdant stepped rice fields.
For those seeking a bit of adventure, there is also a wide array of marine sports, such as kayaking, fishing, or even paddleboarding, while for those more easy-going people, glamping is sure to provide that much needed touch of relaxation.
Alternatively, if you have a bit of time to spare, jump on a 5 minute boat ride to Kuroshima Island and walk down the magical Venus road, which only appears at low tide and allows you to actually walk from one island to another.
Before you leave, make sure to stop by one of the local restaurants to try out fresh vegetables and seafood caught directly from the bay.
Whether you come here for a day or just overnight, Ushimado will provide you with some of the best experiences Japan has to offer and will be sure to live on in your memory for years to come.
---
A peaceful town with mesmerizing sights...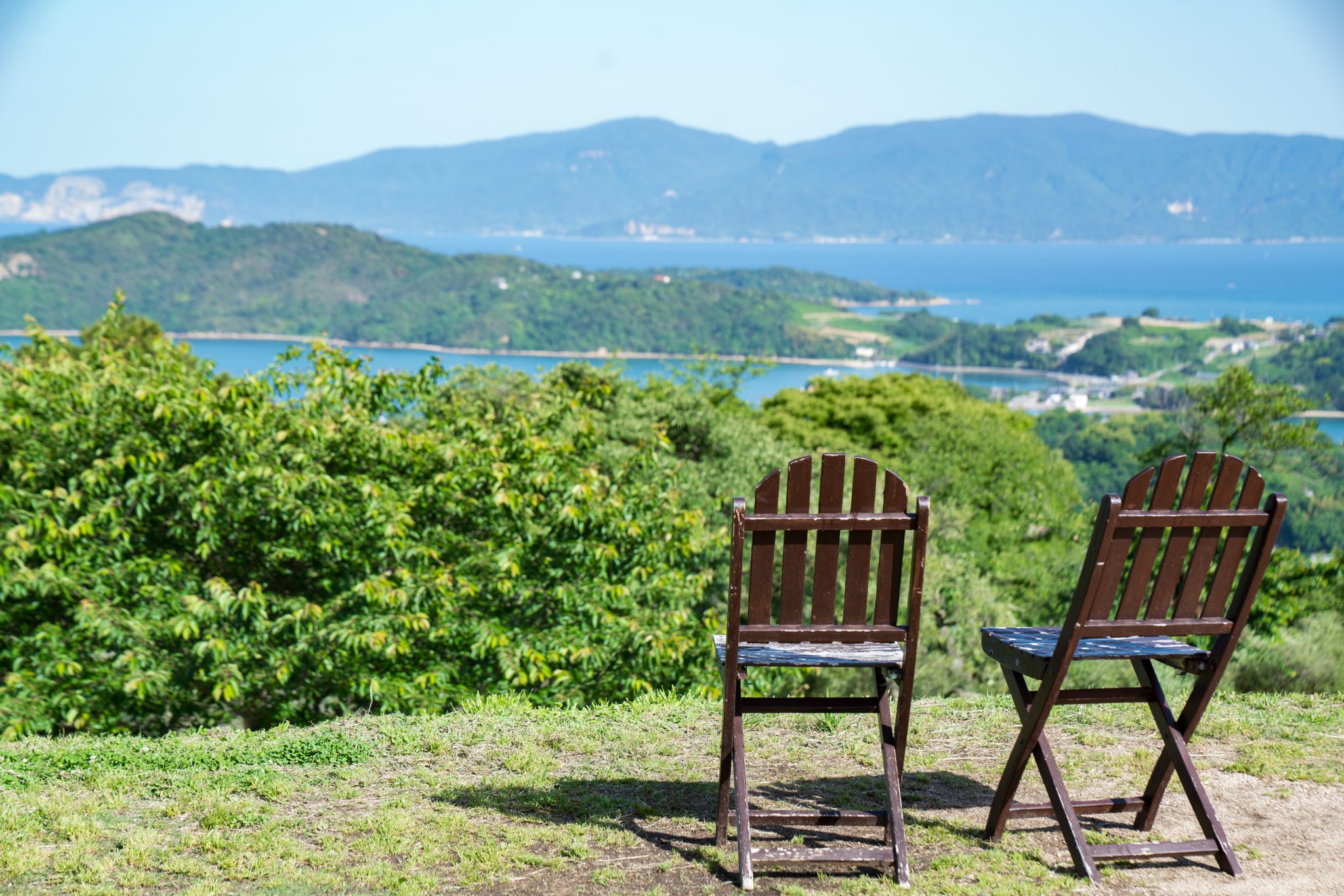 ...and a rich international history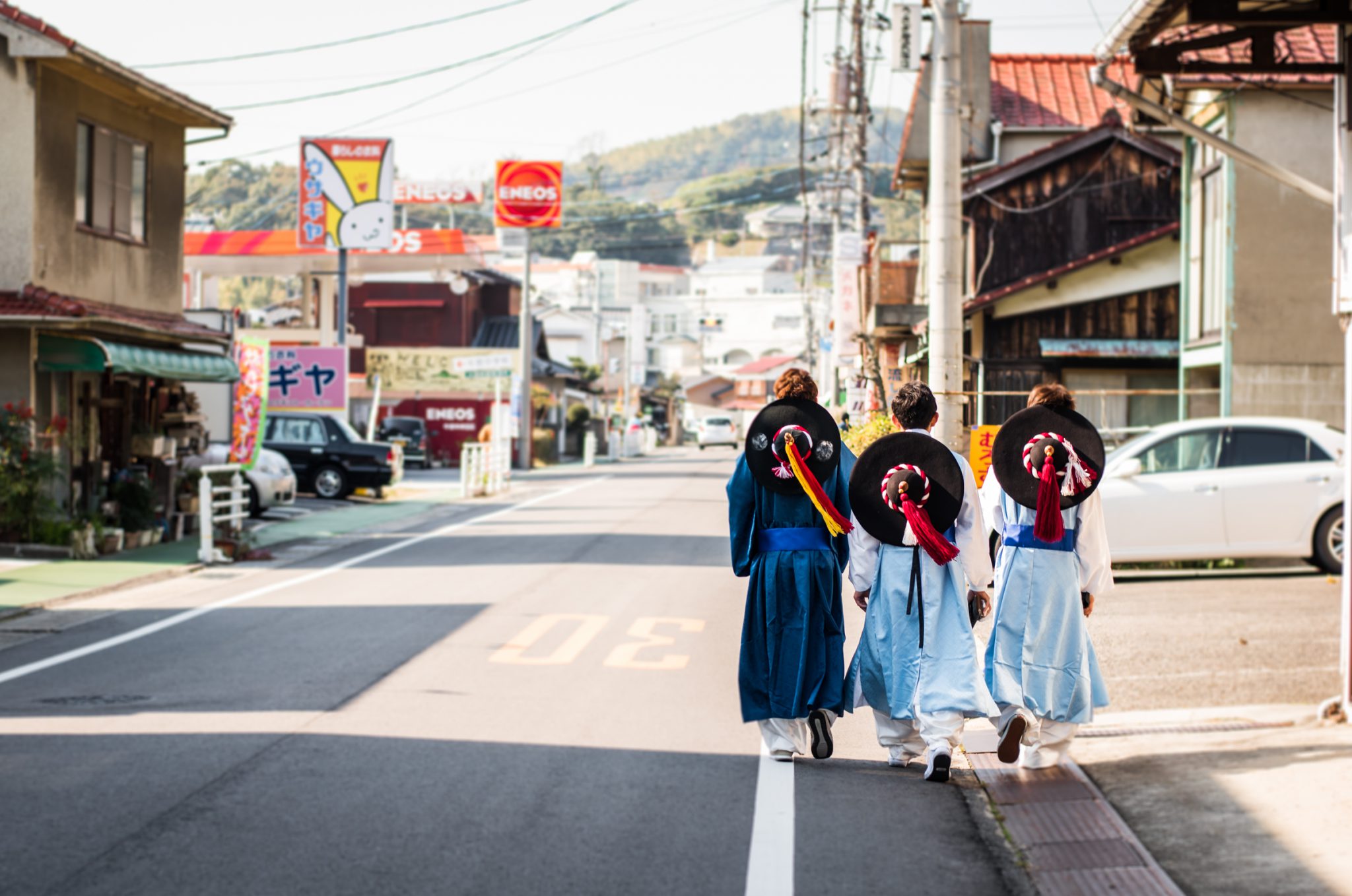 History of Ushimado
Ushimado literally means 'Cow Window', leading many people to wonder why this port town was dubbed with such an odd name. For one thing, Ushimado is singularly cow-free. Although there are various theories around the origin of the name, it is written in 'Shogo Empress' Auspicious Picture Scroll' that in the 3rd century, according to ancient mythology, Empress Jingu was attacked at sea on her way to invade Korea by a 30 meter tall demon while sailing near present-day Ushimado. Though after a great struggle she managed to kill it with an arrow, on her way home from Korea the Empress was attacked once again by the same demon who, upon failing to enter Nirvana, had been transformed into a demon cow. This time though, the Shinto Gods of the sea and sailing, also referred to as Sumiyoshi Sanjin, came to the Empress's aid. Grabbing the demon by the horns, they fought and wrestled until, finally, he was vanquished for good. According to this legend, the town was first named 'Ushimarobi', which means the 'tumble' or 'fall' of the cow. However, due to repeated mispronunciation throughout the years, the name evolved from 'Ushimarobi', to 'Ushimaro', to finally 'Ushimado'. According to local stories, it is said that the body of the demon cow turned into the islands that you can see from the shore.
Apart from being an arena for demon-cow wrestling matches, Ushimado also flourished as a 'waiting and maintenance' port during the Edo period (1603-1868) and became a prosperous town home to numerous businesses, inns and merchants.
As Ushimado is situated right between Osaka and Hiroshima, ships would frequently stop here for a few days to wait for a favourable wind or tide to carry them on their way or simply to convalesce in the balmy Mediterranean surroundings.
Amongst those who decided to take a break in this seaside town were a series of famous Korean political missions. These delegations of Korean diplomats were sent to Japan during the Edo period to resolve issues between the two countries as well as to participate in the inauguration celebrations of the new shogun Tokugawa Hidetada. 12 such visits were made to Japan between 1607 and 1811 during which the king of Korea and the Tokugawa shogun would exchange messages and endeavor to deepen amicable relations. The first delegation in 1607 during the reign of King Seonjo consisted of as many as 500 people, including the Chief Envoy, the Vice-Envoy and other officials, as well as a whole retinue of scholars, painters and doctors. As they made their journey across Japan, they were joined by ships from all of the Japanese domains they went through who would guide them through their journey. As a result, it has been estimated that there could have been as many as 1000 vessels accompanying them at one point.
During their stay, there were a whole host of cultural, academic and commercial exchanges with the locals who were particularly fascinated by this foreign culture, Japan being virtually completely closed to foreigners at this time. Today, to celebrate these historical ties and to foster amicable cultural exchange with Korea, Setouchi city organises every year a Korean festival in Ushimado during which Korean culture is beautifully put on display in the form of dance, music, traditional attire and food.
The Korean Delegation has been added to the UNESCO Memory of the World Register and many historical sites of the time remain to be admired all around the town.
Main Attractions of Ushimado
Shiomachi Karakoto Street has remained almost unchanged since its golden years as the main merchant road of this once important port town. Even now there are still many old evocative Japanese houses, merchant stores and inns lining the road. Although most of them are private houses, some have been transformed into cafes, shops or even restaurants.
Do not hesitate to have a peek inside and have a feel of how people used to live during the Edo period. You can also venture inside a couple of preserved historic buildings such as the town's first bank, built in 1915, that is today used as an exhibition room where pictures of 20th century Ushimado are on open display.
Ushimado has many shrines and temples scattered all over town. However, the two main ones that absolutely should not be missed are the historical Honrenji Temple and the somewhat hidden Ushimado Shrine.
Honrenji Temple is an ancient Buddhist temple where the Korean delegation used to sojourn during their stays in Ushimado. For decades it was used as one of the main reception/entertainment centres of the Okayama domain and has been designated as a national historical site.
As you walk further into Ushimado towards one of its small but prepossessing beaches, you will be greeted by an impressive torii gate which marks the entrance of Ushimado Shrine. However, be ready for a small hike up a long flight of stairs. As you ascend into the lush forest at the top, the sound of the wind and the tide disappear, leaving you with nothing but the sound of nature and your own footsteps on the well-worn path. Finally you will be greeted by the sight of the shrine slowly appearing at the top of the path, surrounded by trees gently whispering in the wind. This shrine is said to have been established around a thousand years ago and it is easy to understand why such a spellbinding place has become steeped in local legends.
Founded in the 1940s by the wealthy Hattori family, the Ushimado Olive garden boasts around 2000 olive trees in a 10 hectare botanical garden and is one of only two olive gardens in Japan today. Set upon a hilltop overlooking the Seto Inland Sea, the view is mesmerising and has been a source of inspiration for many Japanese painters such as Satake Toku.
You will also find there a shop which a offers a wide variety of items made from olives, such as cosmetics or salad dressing, as well as their very own olive-flavoured ice cream! Above the shop, a new avant-garde cafe has recently opened its doors where you can sip delicious freshly made juices or heartwarming coffee.
For those looking for a change of fortune in their love life, go ring the 'Lover's bell' and wish for the best. For a more surefire result, ring it three times (that's the charm as they say!).
It might seem at first like just another small uninhabited island, but at low tide it slowly reveals its true magic as the sea slowly parts and a path appears, enabling you to walk to the two neighbouring islands. Leaving from the Limani Hotel, Kuroshima Island is just a short boat-ride away.
Facing the town of Ushimado is Maejima, a beautifully green island designated as National Park. Just a five minute ferry ride from Ushimado, Maejima is a great place to enjoy fun outdoor activities such as sea kayaking, cycling, hiking, or even camping. If you have the chance, stay over in one of the many pensions on the island and treat yourself to a gorgeous red sunset and maybe even to some freshly caught oysters.
Bizen pottery is famous worldwide for its earthy colours. But before Bizen pottery existed, Sue pottery with its distinctive blue-grey colour was very much in vogue. Many ancient kilns once used to bake Sue potteries were found in Sabukaze, elevating the area to National Historical Landmark. Today, Sabukaze is home to a museum where you can admire many relics found in the surroundings as well as try your hand at making your own Sue pottery under the careful guidance of local artisans!
How get to Ushimado
As there are no train lines, it might be a little bit tricky to get to Ushimado but it is certainly not impossible! First, board a train on the Ako line at Okayama Station and alight at Oku station, a trip that takes around 25 minutes one way. Once you arrive at Oku Station, walk towards the roundabout situated right in front of the station where you will see a single bus stop. As there are very few buses bound to Ushimado, we highly recommend that you check the timetable beforehand here. Get off at the last stop, 'Ushimado'. The bus journey takes around 20 minutes. Otherwise, you can jump in a taxi at the train station which would cost around 2500 yen and can take as little as 20 minutes.
If alternatively you rent a car at Okayama station, you can reach Ushimado in around 50 minutes.
Come and see for yourself and experience the breathtaking beauty and charm of this traditional Japanese seaside town. Let yourself be transported through time while walking through its old streets; test yourself with a spot of paddle boarding; and of course don't forget to taste the fresh local food. Ushimado is truly a feast for the senses.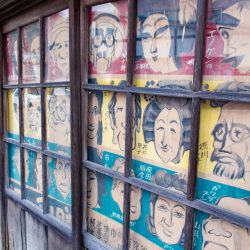 Slip back in time and stroll down the main merchant road of Ushimado!
Read More »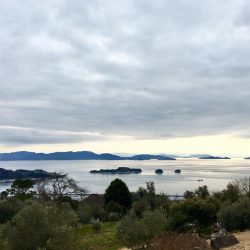 Let your breath be taken away by the view from the beautiful Olive Garden!
Read More »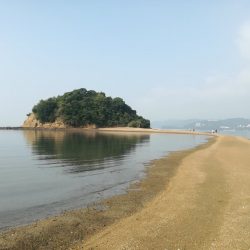 Watch a path of sand emerge from the sea and hop from one island to another!
Read More »